The premium filehoster Fileboom.me has been a file hosting platform with a steadily growing number of users and great popularity for several years. But does it really deliver what it promises? What are the advantages? And how secure and serious is the offer? We did the detailed test and put Fileboom with all its functions and premium access on the test bench.
Fileboom is a premium filehoster that specializes in the secure storage of data. The provider from Edinburgh, UK, has been stirring up the filehoster market since 2014. It offers not only the storage, but also the download of files and data. Fileboom offers a free account. If you want to enjoy 5 GB of storage space and lightning-quick upload and download times, we recommend the inexpensive premium package. The file host complies with the latest security standards and data protection regulations. Payment is made via PayPal and with all major credit cards.
All 4 accounts and offers
There are 4 versions of premium access. The differences lie in the term and a staggered price. With a longer runtime you can save a lot. The most attractive packages are likely to be 90 days for $ 41.95 or even annual membership for $ 113.95.
You can find a precise overview of the costs here.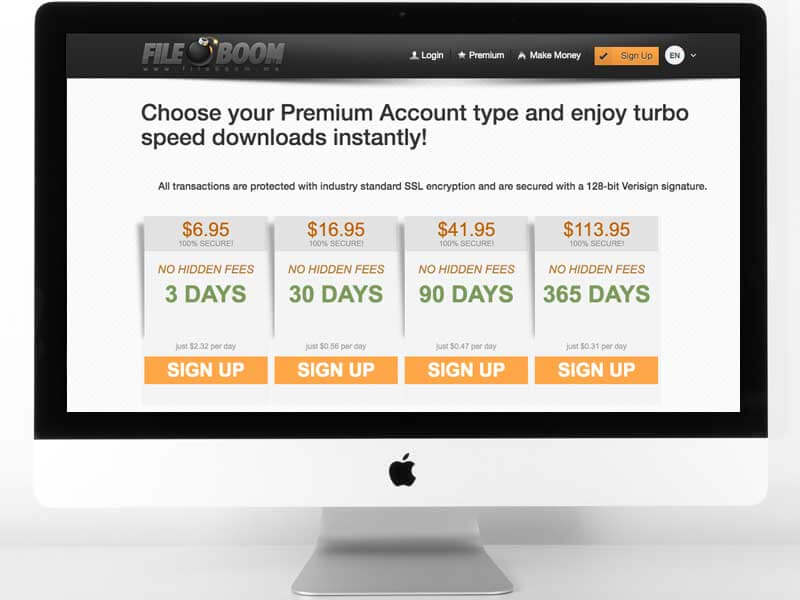 Overview of Fileboom Premium Account
Premium access will make sense for most users. The advantages compared to the standard access are above all in the download speed, the file size and the possibility to run several downloads in parallel. We tested Fileboom Premium for you and put together all the advantages, functions and information on privacy and the user interface.
Advantages of Fileboom Premium
Faster Downloads
With premium access, users can take full advantage of the unrestricted download speed. Although there is currently no neutral speed test, the rates for our own user tests are around 50 kb / s in the free version and in the range between 750 kb/s bis 1.5 Mb/s in the premium version.
Maximum file size
Fileboom Premium allows much larger files for uploading and downloading up to a maximum of 5GB. The provider specifies a limit of 500 Mb for free use.
Download-Manager
External download managers, such as found here at Heise can be used without any problems. JDownloader also works as well as the application under various VPNs and proxies. However, it can be expected that the speed will decrease.
You can find VPNs with proxies on offer here, for example:
PIA
Secure-VPN
Nvpn
Ovpn
Perfect-Privacy
Ironsocket
Longer storage times
Longer storage times Incomplete downloads or inactive files are saved for up to three months, so that nothing is lost even during a break.
Multiple downloads in parallel
A not insignificant factor that speaks for premium access: You can start several downloads at the same time. This is not possible in the free version.
No waiting time
In the premium account there is no waiting time of 30 seconds before a download starts. Downloads therefore start immediately and without delay.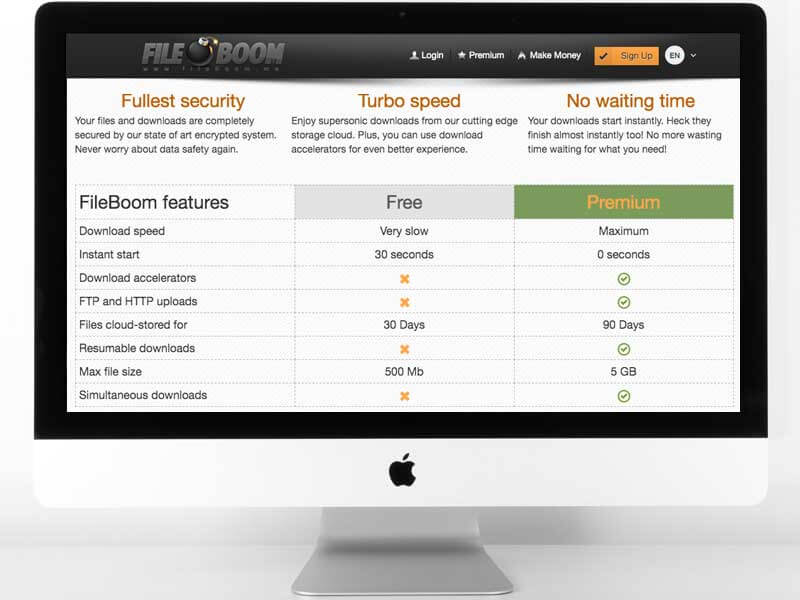 Upload via FTP and HTTP
Uploads can be initiated easily at any time via FTP and HTTP.
Report function
Predefined reports can be called up in the account. So you always have an overview of past uploads and downloads by days, weeks and months.
Fileboom has been built by the developers to be intuitive and user-friendly. A deliberate and incomprehensible user guidance was deliberately avoided, so that uploading or downloading does not waste unnecessary time trying to understand the file host tool.
In contrast to other file hosts, user-friendliness was also taken into account here: The registration is simply done via Google or Facebook accounts. If you don't want to link the accounts with Fileboom, you can enter any email address and password. You get forwarded to the user interface, where you can start uploading data straight away.
Privacy, security and data protection
Security and data protection are probably the most important reasons why you choose for or against a file hoster. That is why we took a close look at these aspects and put them through their paces with IT experts. Fileboom uses the latest security and encryption technologies. The data on Fileboom's servers is stored absolutely securely. All payments are protected against access by third parties thanks to the latest encryption technologies.
Fileboom costs and payment
The costs are manageable. The Filehoster is considered one of the cheapest solutions on the market. The costs are reduced with longer terms. 3 days to get to know each other cost $ 6.95 and an entire month is $ 16.95. At just $ 41.95, the 3-month deal is probably the best value for most users. For $ 113.95 you get a full year of Fileboom Premium access and do the cheapest.
Overview of all Fileboom Premium Accounts:
Fileboom voucher and discount
Thanks to its clear price structure and low fees, Fileboom is one of the cheapest providers on the filehoster market. Accordingly, the file host does not issue coupon codes or discounts, which other competitors in turn price. So the user receives a transparent and fair price.
The usual credit cards Visa, Mastercard, American Express but also Discover and JCB are offered on the provider's site. You can also pay in Bitcoin. Local means of payment are also covered by corresponding reseller links, including PayPal.
Overview of all payment options:
The basic version of Fileboom is free. If you like to accept a few restrictions compared to the premium version, the basic version is recommended. The restrictions consist of the following points:
Only one download: the basic version does not offer parallel downloads
Longer waiting time: You have to wait a bit for the download to start, but for up to 30 seconds
Reduced speed: Fileboom in the basic version is slower than in the premium version
Shorter storage time: Inactive data is only saved for 30 days
Advertising and captcha queries: In order to offer the free version, Fileboom displays internet advertising. In addition, captcha queries occur regularly.
No download manager: The free version does not offer a download manager.
So if you need a bit extra power, you are well advised with the paid but inexpensive premium version.
Support & customer service
Fileboom's customer service offers a disused help area for frequently asked questions, which should answer 95% of users' questions. If the problem is a little trickier, you can contact the provider directly with your request. We have found that Fileboom will get back to you with a solution in no time. The help area can be found under HELP in the footer of the page.
There is a very long list of different file hosts. Since Fileboom comes from the same company as Keep 2 Share, it is definitely worth taking a look at the "bigger brother". Another file hosting portal of the provider can be found under TezFiles.
Our conclusion on Fileboom
Our experience with Fileboom is consistently positive. In terms of user-friendliness, pricing, security and data protection, the filehoster in Scotland has nothing to be desired. We were won over by the free basic package, so that you can try out Fileboom and its functions in peace. If you need a very high download speed and simultaneous downloads, the premium package is very well supplied. We liked the simple registration process and the user-friendliness in daily use, which dispenses with unnecessary and time-consuming gadgets. The offer is rounded off by Fileboom's uncompromising claim to offer your customers the most modern and most secure encryption protocols.